8 June 2023
7HO is the clear leader in the latest Xtra Insights survey in Hobart, with the departure of Jimmy and Nath off Hit 100.9 breakfast to go to National Nights seeing listeners turn over to Triple M and triple j.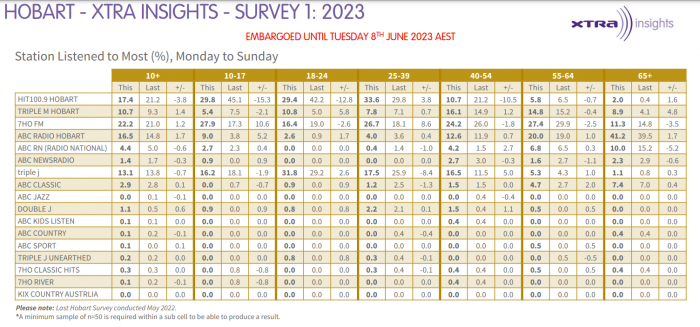 Hit 100.9 still features Jimmy and Nath replayed from 4-7pm in Hobart in a show on their website called "Jimmy and Nath Summer Drive – Right across the Hit Network for the summer". Drive dropped 1.9 to 19.0 for Hit, just above 7HO's also syndicated Will and Woody (down 1.8).
Overall 7HO was up 1.2 for all listeners 10+ to 22.2 with Hit 100.9 down 3.8 (listeners 10-17 and 18-24 were down 15.3 and 12.8 respectively) and ABC Radio and Triple M Hobart both up 1.7 and 1.4.
In Breakfast, both ABC Radio Hobart's Ryk Goddard and Mel Bush (up 1.8 to 19.4) and 7HO's Sarah, Mick and Johnno (up 1.2 to 21.1) overtook Hit's Dan and Christie, who replaced Jimmy and Nath a year ago.
7HO, Triple M and ABC Radio Hobart saw significant gains in their cumulative audience with Hit again down but still in second place overall behind 7HO.
7HO were delighted with the results with their content director Allan Cameron saying,
"Incredibly proud of the on-air team who give their absolute best every single day entertaining, informing and most importantly giving Hobart a truly live and local radio station.
Sarah, Mick and Johnno becoming Hobarts #1 way to wake up and dominating workplaces is just outstanding!"
And general manager Greg Scealy saying,
"I'm so incredibly proud of our team. We all live and breathe Hobart and that has clearly resonated with the people of Hobart, who have overwhelmingly voted with their ears! 7HOFM is truly, 100% Hobart."
Of the 17 stations surveyed, seven of the seventeen (all DAB+) rated at either 0 or 0.1.
Courtesy of Radio Info.